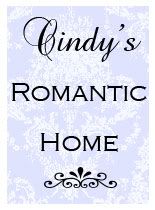 Hi Everyone!
Thanks for visiting my blog today on 'Show and Tell' Friday. Cindy is hosting from My Romantic Home
www.romantichome.blogspot.com
I hope you'll check her blog out. It's always lovely to see what everyone is showing.
Today I have been racking my brain wondering what to Show! I know a lot of my friends have seen my Ripples but there may be some Followers on Cindy's blog that haven't so, here they are.
The First Ripple I crocheted was 'The Candy Ripple Cuddle Hugger'. My friend gave me the pattern.
This one matches my Conservatory, lovely summery colours.
What's Black and White and 'RED' all over? 'The Newspaper Ripple'.
A Ripple Blanket for my Daughter's flat.
Of course then a Ripple for my other Daughter, can't leave her out.'The Cotton Candy Ripple'.
Now I'm in the process of crocheting the 'Fireside Ripple'. This one is for me! This one is taking me a bit longer as time has been a bit more limited. So this is a W.I.P.
If anyone would like the pattern,I don't charge I'd only be too pleased to let you have it. I use Flickr mail more than ordinary. Flickr (Mrs Twins). sueatpigsty@talktalk.net Just shout!
Thank you everyone for your weekly support and to all my friends in the US I hope you have a very 'Happy Thanksgiving.'