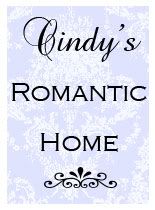 Hi Everyone, It's 'Show and Tell Friday' again!
Thank you to Cindy of 'My Romantic Home' for hosting.
Welcome!
Thank you for stopping by. I hope if you're a new visitor you'll sign in. I hope we can become friends.
I must say how much I look forward to these Fridays. It's such an honour to be able to fly around the world visiting everyone's blogs. It's so.....interesting to be able to peep into everyones' world and see their beautiful treasures.
There was a show in the UK called 'Look Through the Keyhole' where the public were allowed to visit Celebrities homes' and guess who lived there. I do feel Blogland is much the same. We are in a way given special access to visit homes all over the world whether it's Australia or the USA or wherever and we are given the opportunity to view the most loveliest of things. Whether it's a set of antique books or maybe a beautiful dinner set. We all have things which we treasure and want to show each other.
The title of my blog is Sue's Favourite Things and in it I want to share the things which make me happy. Apart from my family who I am absolutely devoted to I love things around my home. I love keeping my home tidy,I am a fanatic cleaner and I love my piggie ornaments which are scattered everywhere. BUT most of all I love to decorate my rooms with my Crocheting and Sewing. So whether it's a vase of Crocheted flowers or a Crocheted toilet roll holder every room has some part of me in.
I also like to decorate my Lounge on special occasions. Christmas is one of them. Although I have sewn two Christmas tree skirts when my Daughters were little I do try to change as they get older. So now I have gone from the Children type things to the more 'grown' up themes. In my Lounge at Christmas now I have a white and gold theme. This brings me on to my Angel.
I made two of these Christmas Angels some years ago one each for my twin daughters. They take pride and place now on our
Christmas tree. Today I want to share them with you. I do apologise to my regular friends who visit my blog as I have already chatted about them this week. These Angels are very special to us and I hope you like them.
Here in the UK we have a magazine called 'Woman's Weekly'. Some years ago I sent off for the pattern of an Angel from
www.candlehousecrafts.co.uk
They design kits for other soft toys as well teddies, mice etc., They can be found on the link. They still do the kit for the Angel too, so you could have a go!
My Christmas Angels were an absolute pleasure to make. They are still as beautiful as when I first made them. The Angels are made from white cotton lawn, pale pink felt, white felt, lightweight interfacing, ribbons, stuffing, tapestry wool, pipe cleaners and sequins.
The Angels hang on our tree every year, and I also made a Valentine Kisses doll out of red material for Valentines Day by adapting the pattern and also A Friendship Fairy I made for BrendaS2 one year to celebrate our friendship.
Aren't they gorgeous? I do hope you have enjoyed looking at my Angels. I'm sorry it's not an ornament or dinner set but the things I have made over the years mean such a lot to me and are really a reminder of a time in our lives.
I also made another Bird Garland years ago. This was from a pattern I bought at the National Exhibition Centre Sewing show one year.
Bird mad aren't I?
Bye for now.
Slideshow today Robbie Williams - Angels.