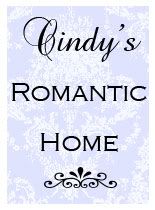 Hi Everyone!
First of all may I welcome my new Followers! I'm pleased to meet you all.
'Show and Tell' Friday is here once again. Cindy is hosting from 'My Romantic Home',
http://www.romantichome.blogspot.com/
so I must thank her and I hope everyone pops over there.
When I first joined Flickr I was amazed at the talent of women all over the world. One of my friends on Flickr said, 'Flickr is better than opening up any magazine, there is always so much to see!'. Don't you just agree?
I was greatly inspired by Elizabeth of Creative Breathing.
http://www.creativebreathing.blogspot.com/
Her Craft room was such a pleasure to see. She loves working in felt and I have to say she is pretty good!. Among her other talents she crochets and loves working with paper. I hope you'll pop over to her blog. On reading her posts every day I came across her beautiful Bird Cage. She was in fact decorating the Bird Cage with felt red roses. It surely was a pleasure to see and from this she inspired me to have a go at decorating one myself.
After searching high and low for a Bird Cage of my own I visited a Garden Centre one Tuesday with my Mother. I came across this Vintage one, and decided to crochet some carnations and roses for the top. I made them into a corsage and threaded them through the wire.
I was dead chuffed because Elizabeth 'The greatest of all bloggers' I always thought mentioned me soon after in her blog. I can't tell you how 'over the moon I was!'. It was like hitting the jackpot! :)
Soon after Lucy of Attic 24
http://www.attic24.typepad.com/
made some little Birdies. I thought I would have a go myself.
I decided to make two for my Bird Cage. This now takes pride and place in my Conservatory. I'm so thankful to Elizabeth for giving me inspiration. I do hope you'll visit her. Also to Lucy for giving me and lots of others from all over the world the inspiration to make their own little Birdies!
So my 'Show and Tell' was another Crafty one, I do hope you've enjoyed it though. Apologies to my blogland friends who have seen the Bird Cage many, many times before!
Have a good weekend to all my friends whether new today or my 'regulars'. Thanks for supporting me again this week. I know I've been pretty quiet but I've had a load of work to do in the house and family have been demanding!
Enjoy your day and thanks again!!
Good Weekend everyone!
Hugs Suex
Please make a cup of tea and watch my slideshow! Caged Bird by Alicia Keys.