Hi Everyone! (Show and Tell Friday too!).
Thank you Cindy for hosting another 'Show and Tell' Friday. I think all Bloggers will be interested in reading this!
http://www.romantichome.blogspot.com/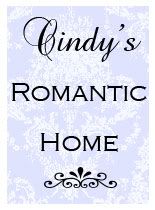 Just want to tell you all about My Blog Book! I know we all love our Blogs. Have you ever thought of getting a hardback book made out of them?
Well in the post today I received my book which I ordered around 4 weeks ago. Well actually 2 books! One each for my Daughters. (In years to come they might appreciate a bit more!).
We all put a lot of work into our Blogs. Whether it be writing up the post or taking the countless number of photographs!
I've often thought how nice it would be to have a permanent hardback record of our posts and indeed the most wonderful comments from everyone! Which are always so greatly received.
Here are some photos of the book. Now because I'm so excited I've been trying to take photos with my iphone and my hand is shaking. One hand at that. Some of the shots are not too good. Here goes........
Front Cover.
Back Cover.
'Your Wonderful Comments!'
Inside Photos.
I'm so chuffed with the books. I have waited awhile. But coming from America and Christmas. It's taken just over 4 weeks. Costing Around £40 each. There are 111 colour pages. I think personally they are very good value.
Now do you want to know where you get them from?
http://thecutestblogontheblock.com/
I just love the book. I've done mine up to December 2009. Maybe in six months I shall do the next one, a bit at a time. Or I might leave it a year before the next one. I'm not sure.
I think if I changed anything I would make the title stand out more, but you know I'm really really chuffed with it. Was it a Christmas present I bought myself? No, Mr. Twin bought them for Christmas for me. Although he knows they are for the girls, he knows how much blogging means to me!
It's special to me because blogging has given me such a lot of fun and I just love chatting to everyone! So thank you all Bloggers!
Bye for now. Cup of tea time and another read.