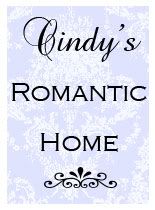 Hi I'm linking this to Cindy of My Romantic Home. She is hosting 'Show and Tell Friday' again. Thank you Cindy.I hope you'll pop over and visit her.
Thanks for popping over to see me.
I decided yesterday to put the decorations up. I am quite early this year, in fact I don't usually put them up until a week before. Little Miss. Twin has her Gym Dinner and Dance on Friday evening, she is going to wear a silver sparkly sequin dress and you know what I want the house to be Christmasy for her. That's the reason why I have put the tree and decorations up early. I want to get her in the mood!
Well I am pleased to say I did manage to get another Christmas tree from the same Garden Centre. As lots of you know they had reserved me one, but upon going to collect they told me they had had a break in! So my tree was no longer available. They worked very hard to get me another one in. So thankfully I have one in time. They are always such a pain putting up and I'm really glad that's it now done to my satisfaction. (Let's hope it doesn't fall down!).
Anyway this is my room at Christmastime. I say 'my' you know it's 'ours!' ha.ha.
The lights on the tree have around 8 different combinations So maybe on some of the pictures the tree seems very bright.
I have certain things which I always put on year after year. My Angels. The one at the top of the tree was given to me 48 years ago on the day my Brother Kevin was born. 30th November in fact. I remember now standing at the bottom of the stairs all excited. Here she is.
The two paper Angels, holding the book. These hold very special memories for me. Walking around the market at Christmastime with my two beautiful babies in their pushchair. I just couldn't resist buying two one each for the girls.
The two Christmas Angels, well you've seen these before. They are from a pattern from Candle House Crafts.
www.candlehousecrafts.co.uk
They come in kit form everything is included material, sequins etc., They are around £11.00 each and they are so wonderful to make. Please check them out on the link. They do other things too which you can make and they really make lovely gifts. These were made some years ago, but these always have to take pride and place on my tree.
This beautiful Snowflake was made and given to me by my dear friend BrendaS2 on Flickr. Isn't it gorgeous. She made me quite a few. I always hang these on my tree too. Along with a little blue Angel.
Now I come to 'Golden Birdie' thread sent to me by Elizabeth Cat. Just couldn't wait to put him on the tree this year.
www.attic24.typepad.com
Along with the beautiful 'Golden Butterflies'. I made three, one small, two larger ones. They look beautiful when the light catches them.
www.netspets.blogspot.com
Then the other Butterflies I made a couple of weeks ago, white and light brown. Their antennae were made from Gold Metallic Spiral Cord.
Then I load the tree with Gold bows, Gold baubles, Gold Crackers, a little Gold Chime from BrendaS2 and lots of other sentimental decorations from my neice and nephew.
I tend to use Gold and White these days to decorate my tree. I do like the Christmasy colours, Red, Green and White. But I have felt since the girls are grown up now, we have to have something a little more adult-like.
Then I like to decorate my Fireplace with my twinkling lights and Garland. I always have lots of twig lights in my Lounge, Kitchen and Conservatory. I feel that they always make a corner so special.
There you can see my latest Ripple on the sofa, just waiting to be used again.
I've also got icicle lights in the bay window.
I hope you've enjoyed looking at how I decorate my room.I do hope you'll post photos of your house I'd just love to pop over and look at them.
Have a wonderful weekend everyone, will you be putting your Christmas tree and Decorations up?